JPMorgan Chase restated their neutral rating on shares of LafargeHolcim (OTCMKTS:HCMLY) in a report published on Tuesday.
A number of other equities analysts have also recently weighed in on HCMLY. Deutsche Bank reaffirmed a neutral rating on shares of LafargeHolcim in a report on Wednesday, March 21st. DZ Bank reaffirmed a buy rating on shares of LafargeHolcim in a report on Tuesday, March 6th. Goldman Sachs reaffirmed a neutral rating on shares of LafargeHolcim in a report on Monday, March 12th. Finally, BNP Paribas reaffirmed a sell rating on shares of LafargeHolcim in a report on Thursday, January 25th. One research analyst has rated the stock with a sell rating, eight have issued a hold rating and one has given a buy rating to the company. LafargeHolcim has an average rating of Hold.
OTCMKTS HCMLY opened at $10.62 on Tuesday. The stock has a market capitalization of $31.86 billion, a P/E ratio of 22.13, a price-to-earnings-growth ratio of 1.96 and a beta of 1.67. LafargeHolcim has a twelve month low of $10.42 and a twelve month high of $12.59. The company has a quick ratio of 0.85, a current ratio of 1.10 and a debt-to-equity ratio of 0.48.
LafargeHolcim (OTCMKTS:HCMLY) last released its quarterly earnings results on Friday, March 2nd. The construction company reported $0.09 earnings per share for the quarter, missing analysts' consensus estimates of $0.15 by ($0.06). The business had revenue of $6.79 billion during the quarter, compared to analyst estimates of $6.87 billion. LafargeHolcim had a positive return on equity of 5.38% and a negative net margin of 6.36%. equities research analysts expect that LafargeHolcim will post 0.67 EPS for the current year.
LafargeHolcim Company Profile
LafargeHolcim Ltd operates as a building materials and solutions company worldwide. It operates in four segments: Cement, Aggregates, Ready-mix Concrete, and Solutions & Products. The company offers cement, clinker, and other cementitious materials; aggregates, such as crushed stone, gravel, and sand; ready-mix concrete, concrete products, asphalt, and other products and services; and construction and paving, and trading services.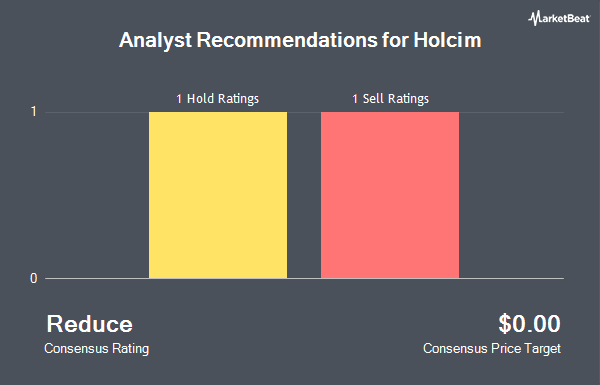 Receive News & Ratings for LafargeHolcim Daily - Enter your email address below to receive a concise daily summary of the latest news and analysts' ratings for LafargeHolcim and related companies with MarketBeat.com's FREE daily email newsletter.