Vince (NYSE:VNCE) issued its earnings results on Thursday. The textile maker reported ($0.49) EPS for the quarter, missing analysts' consensus estimates of ($0.09) by ($0.40), Bloomberg Earnings reports. Vince had a negative return on equity of 387.17% and a net margin of 21.50%.
Vince traded up $0.21, reaching $13.90, during trading hours on Thursday, MarketBeat Ratings reports. The company's stock had a trading volume of 202,271 shares, compared to its average volume of 32,887. Vince has a 1 year low of $3.20 and a 1 year high of $14.35. The company has a current ratio of 1.81, a quick ratio of 0.72 and a debt-to-equity ratio of 0.54.
Separately, ValuEngine upgraded shares of Vince from a "sell" rating to a "hold" rating in a research report on Wednesday, May 2nd.
About Vince
Vince Holding Corp. engages in the design, merchandise, and sale of various luxury brand products in the United States and internationally. It operates through two segments, Wholesale and Direct-To-Consumer. The company offers a range of women's products, such as cashmere sweaters, silk blouses, leather and suede leggings and jackets, dresses, denims, pants, tanks, T-shirts, handbags, and outerwear under the Vince brand; and men's products comprising T-shirts, knit and woven tops, sweaters, denim, pants, blazers, outerwear, and leather jackets under the Vince brand.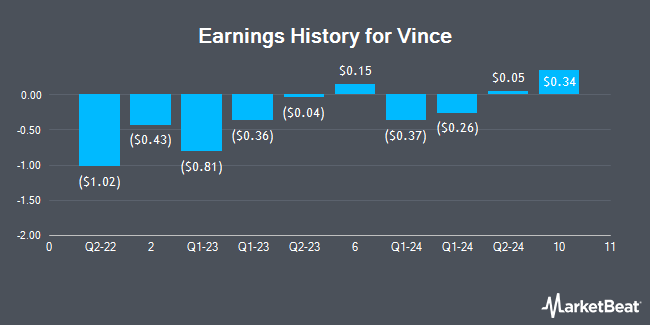 Receive News & Ratings for Vince Daily - Enter your email address below to receive a concise daily summary of the latest news and analysts' ratings for Vince and related companies with MarketBeat.com's FREE daily email newsletter.